…rainforest imagination art ∼ draw what the crocodile ate ∼ create a rainforest footprint story…
Create your own Tropical Rainforest themed art!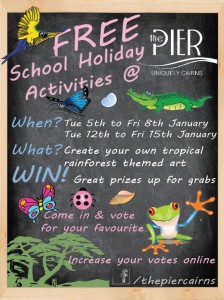 Great Prizes Up for Grabs
Tuesday 5th to Friday 8th January 2016
Tuesday 12th to Friday 15th January 2016
10am to 2pm
Pier Centre Court
* 2 hours free parking
How can I WIN?
Have your artwork hung on our display boards and/or upload a photo to: www.facebook.com/thepiercairns
Votes made via ballot at the Pier Centre → 2 votes
Votes made via the Pier Facebook page → 1 vote
This is a FREE event. Only art work displayed by The Pier organisers on the assigned boards, and/or artwork uploaded to The Pier Facebook Page is eligible to receive votes. Judges decision is final and prizes need to be collected from Pier Centre Management at a time mutually convenient. Winners will be announced on Facebook. Happy holidays.