WIN Weekly Prizes and Gift Vouchers just by sharing the love!
Get Social at the Pier and WIN Weekly Prizes and Gift Vouchers!
Come in and visit your favourite retail shop at the Pier
Take a photo or a live Facebook video [inside or outside the shop]
Tell us why it's your favourite and upload to Facebook, Instagram or Twitter
Rules:

Tag Us • Like Us • Follow Us: @thepiercairns
Check In: @thepiercairns
Hashtag: #thepiercairns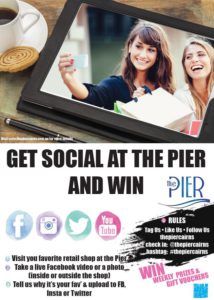 Prizes include:
Gift vouchers redeemable at any Pier retail outlet and café.
Cats Miaow: Gift certificate valued at $100. Purchase any item in-store including cool comfortable clothing, footwear from Shoetopia, handmade accessories from local artist Gilly Lawson of Kraken & Co, and includes styling advice for a new look or a special occasion.
Danny's Nails Hair and Beauty: Delicious beauty package: Men's or ladies shampoo/style cut/blow dry, manicure and pedicure, eyelash extensions and henna brows. Beauty package valued at over $150.
Himalayan Dreams: Gift Certificate to be used for any in-store purchase including a beautiful range of vibrant hand-made bags, hand rolled 100% natural incense and singing bowls.  All items are fair trade. Valued at $50.
Man Overboard: Pure linen YOURSELF shirt, exclusively from Man Overboard, valued at up to $89. The YOURSELF label was created specifically for the tropical climate and comes in a range of styles to choose from.
Night Sky Secrets: Mini Microscope. High powered LED illuminated zoom microscope with 60x to 100x magnification power. Identify pests and diseases on-the-spot, great for looking at jewellery, coins and stones etc. Valued at $35
Round the World Home and Gifts: Beautiful Soy Woodwick Candle. Environmentally friendly, long lasting up to 100 hours. Valued at $39.95
Wild Sugar by Sajeela: Gift certificate for any item in-store or made-to-order. Bold bright and beautiful colours and prints for the sophisticated wild child! Valued at $150
Zook Island: Select one 100% cotton and knit Ballet Dress, and one piece of African Wax Printed handmade fabric. Valued at $110
To increase the chances of winning, entrants are permitted (and encouraged) to enter multiple times, uploading a variety of photos and videos, across various social media platforms. A winner is drawn by random selection each week and announced via social media.
Do you know, or are you still struggling with the basics of Facebook? We have FREE classes where you can learn the basics of Facebook. Are you interested? Do you know anyone that could use this help? For more information – click HERE