Whilst travelling, I developed a strong appreciation of the exotic and vibrant colour palettes…
Red Chair Gallery presents "My World of Colour", an art exhibition by artist Sue Barden
Opening Night:
Red Chair Gallery, Shop G28
5.30pm to 7.30pm, Friday 25th August
RSVP 4051 9442
A fundraiser will also be available on the night with proceeds going to YAPS
"My World of Colour" exhibition, displays at The Red Chair Gallery, until 7th September 2017.
About the artist Sue Barden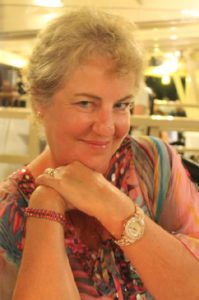 "Although I was born in the UK, I grew up travelling the world as my father had a job that took us to many countries including Aden, Malta and Singapore. Whilst travelling, I developed a strong appreciation of the exotic and vibrant colour palettes.
We all moved to Australia in 1987 and having raised my family in Sydney, I along with my husband, daughter and grandchildren settled in beautiful Far North Queensland, where I started to worked on my interest in painting commencing with ceramics and then moving on to acrylic and oil on canvas.
My son Steve Scott, returned to London, where he has established an international reputation as an illustrator. We both share the same enthusiasm for vibrant from and colour.
My husband and I bought the management rights to a lovely complex in Trinity Beach, which keeps us very busy but any spare time I have you can be sure to find me in my art studio busily painting.

Phone: 4051 9442
Email: dominiquegoninan@hotmail.com
Website: www.redchairgallery.com.au
Facebook: www.facebook.com/RedChairGallery