Tai Chi at The Pier Every Wednesday – FIRST LESSON IS FREE!
Suitable for beginners and experienced students.
When: Every Wednesday
Time: 6.30am to 7.30am
Where: Pier Centre Court
Cost: $5 (FIRST LESSON IS FREE!!!) 
Would you like to do any of the following….? If yes, then we'll see you Wednesday morning!
1) increase mental and physical speed
2) improve concentration power & mental focus
3) develop your reflex and reaction time
4) reduce cortisol & STRESS
5) increase muscle tone, strength flexibility, dexterity, agility, mobility
6) regulate blood pressure & weight
7) massage the internal organs, lubricate the spine
8) improve cardiovascular health, open up the vascular system & boost the immune system
9) reduce the need for chiropractic by improving alignment of the joints
10) produce gamma brain waves, serotonin, endorphins & adrenaline
11) feel AMAZING!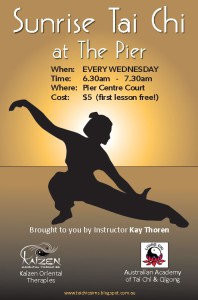 Contact Details
Location: The Pier, Centre Court
Phone: 0417 563 936
Email: kaymthoren@live.com.au