Vegetarian   &   Vegan    ARTISAN    Delights
The Cheeky Yam specialises in unique and delicious artisan vegetarian and vegan foods, raw & comfort foods. We use only organic free-range local dairy, and stock a wide range of milk alternatives, organic and dairy-free ice-creams.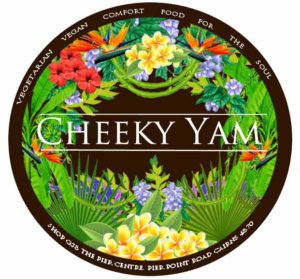 Ask about our GF, Vegan and Paleo Options. We stock a wide range of organic dairy, specialty cheese's and vegan cheese alternatives and specialise in a wide range of vegan "meat" substitutes.
All day breakfast & lunch items:
Espresso
Fresh Squeezed Juice's
Smoothies & Milkshakes
Tasty favourites include:
Savoury Pies and Pastries
Scrambled Veggie Breakfast Wraps
Croissant and Bagel Sandwiches
Lebanese Gyro's and Mezza Platters
Mexican Black Bean Nacho's & Enchilada's
Cheesy Panini's
Hearty Salads
Daily Specials
On the Raw side:
Try our Raw Nude Nacho's or our Raw Pesto Pasta
On the Sweet Side:
Assortment of flavoured Vegan Chocolate Truffles
Lamingtons
Cakes and CupCakes
Breakfast Muffins
Tiramisu
Phone: 0457 204 601
Email:
Facebook: www.facebook.com/Cheeky-Yam