The Cairns Chamber of Commerce is the peak body for business representation in the Cairns region and one of the largest and strongest regional chambers in Australia.
We constructively and collaboratively drive business growth outcomes for members and in the best interests of the Cairns business community.
We have prioritised Cairns business issues on behalf of members since 1909, and will continue to be the only Cairns based business representative body that is exclusively Cairns focused.
We facilitate business success for our members, through the development of a strong and resilient regional economy, through the development of a constructive business environment, and by being the voice of business.
On behalf of our members, we strategically facilitate the growth of industry, support infrastructure development, and lead changes that drive increased business productivity, employment, trade and investment.
The CCOC works in partnership with our members, partner stakeholders and all levels of government to constructively create conditions for business success in the Cairns region.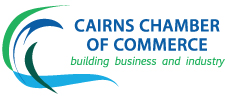 Phone: (07) 4031 1838
Email: info@cairnschamber.com.au
Website: www.cairnschamber.com.au