The Pier is a unique centre, unlike any other you will find in Cairns.
The Pier Shopping Centre boasts the best address in town. Situated on the stunning waterfront with unbeatable views of Trinity Bay, Marlin Marina and out into the Coral Sea, the building is an iconic part of the Cairns waterfront and operates alongside the 5-star Shangri-La Hotel, making it the perfect shopping and dining destination, for a wonderful blend of locals and tourists alike.
The centre offers a range of unique stores and services, with a variety of spaces available for lease. Food and beverage outlets, retail shops of varying shapes and sizes as well as commercial and serviced offices – the Pier pretty much has it all!
With plenty of convenient, underground parking available – a must in our tropical location, the centre is the perfect place for your next business venture!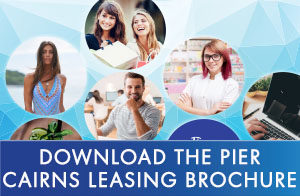 LEASE TYPES
Flexibility is key! Whether you are just starting out, have an established brand, wish to diversify or relocate, the Pier can help. Pop up, casual, short and long term leases are all available, so let us know what you think will work for your business.
Retail, Shop, and Health & Beauty Lease
The Pier has a range of tenancies available from as little as 40m2 up to 600+m2. We're bound to have a size to suit your business needs. With attractive lease terms and very competitive rates, all in a central city location with convenient underground parking – the Pier ticks all the boxes.
Commercial Office Space to Lease
Looking for a new place for your office to call home? The Pier has a range of commercial offices both small and large available to lease. With a great selection of restaurants, cafes and bars right on your doorstep – lunchtimes at work will never be boring again! Take advantage of the attractive lease terms and competitive rates.
Serviced Office Lease
Do you simply need a smaller office space but don't want the headache and stress of overheads? The Pier has a range of serviced office suites to rent, between 10m2 and 20m2. Office life cannot get any easier with the furniture, electricity, internet and cleaning all taken care of, before you step a foot in the door. Simply walk in, plug in and you're set to go.
Restaurant, Food and Cafe Lease
The Pier is always on the lookout for keen food vendors, artisan food specialists, and creators of gourmet delights. With a dedicated popular dining boardwalk precinct overlooking the marina and the opportunity for pop up style outlets inside, the Pier is the perfect place for your gourmet venture.